Air Conditioning & Heating System Repairs For Cars, Trucks, & More!
Overheating and cooling system problems are the most common cause of mechanical breakdowns on the road.
Supreme Muffler & Brake in Rockland, Massachusetts can perform expert diagnostics and repairs to your vehicle's air conditioning and heating systems.
From simple radiator flushes to complex heater control module repairs, Supreme has remained South Shore MA's one-stop A/C & heating system repair shop.
Our newly-remodeled auto repair facility is ready to service cars, trucks, luxury vehicles, sports cars, ATVs, off-road vehicles, limousines, busses, campers, RVs, tractor trailers, heavy-duty commercial vehicles, & more.
Quality Compressors, Radiators, & Condensers Installed By Heating & A/C System Experts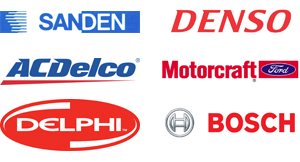 Supreme's mechanics are ASE certified technicians, with advanced knowledge of the complex heating and cooling systems found in today's cars, trucks, SUVs, commercial vehicles, campers, RVS, & more.
We have always provided our South Shore MA customers with various pricing and repair options, with original A/C & heating replacement parts from top manufacturers like Sanden, Denso, AC Delco, Motorcraft, Spectra, Delphi, & Bosch.
Our staff is familiar with every component of your vehicle's heating & cooling system, including compressors, receiver dryers, evaporators, condensers, A/C lines, Freon 134A, high & low pressure switches, fan motors, heater control modules, heater cores, radiators, water pumps, thermostats, hoses, clamps, belts, & more.
Serving South Shore Massachusetts & Surrounding Southeastern MA Area
Specializing in complete auto repair, Massachusetts state inspections, air conditioning system servicing, & heating system servicing, Supreme Muffler & Brake has proudly served the Rockland, MA area since 1991.
This includes the South Shore Massachusetts communities of: Rockland MA, Abington MA, Whitman MA, Weymouth MA, Hanover MA, Norwell MA, Pembroke MA, Hanson MA, Marshfield MA, Braintree MA, Holbrook MA, Hingham MA, Hull MA, Halifax MA, Randolph MA, Bridgewater MA, West Bridgewater MA, and Quincy MA.
For step-by-step driving instructions to Supreme Muffler & Brake in Rockland, MA, please visit our directions page.