Engine Tune-Ups & Check Engine Light Repair In South Shore Mass.
Supreme Muffler & Brake in Rockland, MA is your home for regular scheduled vehicle maintenance, oil changes, and engine tune-ups.
Our ASE certified technicians have performed hundreds of tune-ups for preventative maintenance, as well as diagnostic work to remedy a check engine light.
After computer scanning is used to determine the source of the check engine light, Supreme's helpful staff will then present the customer with various repair options. We have helped South Shore MA vehicle owners stay within their repair budget for over 17 years!
Since Supreme is an official Massachusetts inspection station, we can also replace your vehicle's rejected inspection sticker after the completed repair.
Name Brand Oil Filters, Air Filters, & More Installed By Preventative Repair Experts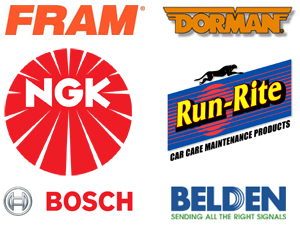 Supreme Muffler & Brake proudly offers high-performance engine parts from industry-leading manufacturers, such as NGK, Dorman, Belden, Bosch, AirTek, Fram, Run-Rite, and more!
From regular scheduled maintenance including oil changes, spark plug replacement, & injection cleaning, to check engine light servicing & intake manifold repair, Supreme Muffler & Brake has you covered.
Engine parts that often need repair or replacement include fuel injectors, spark plugs, coil packs, intake manifolds, air filters, oil filters, engine oil, timing belts, serpentine belts, tensioners, and more.
Serving South Shore Massachusetts & Surrounding Southeastern MA Area
Specializing in complete auto repair, Massachusetts state inspections, & engine tune-ups, Supreme Muffler & Brake has proudly served the Rockland, MA area since 1991.
This includes the South Shore Massachusetts communities of: Rockland MA, Abington MA, Whitman MA, Weymouth MA, Hanover MA, Norwell MA, Pembroke MA, Hanson MA, Marshfield MA, Braintree MA, Holbrook MA, Hingham MA, Hull MA, Halifax MA, Randolph MA, Bridgewater MA, West Bridgewater MA, and Quincy MA.
For step-by-step driving instructions to Supreme Muffler & Brake in Rockland, MA, please visit our directions page.